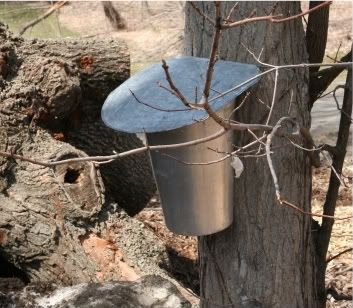 Maple Madness
Sugar shacks around the Hudson Valley are offering tours, festivals and pancake breakfasts to celebrate the 2012 harvest.
Many farm participate in the New York State Maple Producers Assocation's Maple Weekends, holding events on March 17 & 18, 24 & 25.
You can visit sugar shacks to see production in action, enjoy maple tasting and contests and purchase some of the sweetest locally-produced syrup around.
Others local maple sugar shacks offer tours all month long or by appointment.
Here's the Hudson Valley Food Network's guide to the sweetest events of the year.
MARCH 2012 Maple Sugaring Festivals
March 10
March 11
Maple Sugaring at Muscoot Farm
Spend an afternoon finding out all there is to know about making maple syrup.
March 17

Sharpe Reservation Maple Celebration, A Sugar Maple Celebration, maple sugaring, Sugar Bush Hike, Nature Discovery Room, Planetarium, Woodsmen Field Day. Local crafters' and farmers' market
March 17 & 18
Sugaring off pancake breakfast at Muscoot Farm
March 24
Maple sugaring festival at Randolph School in Wappingers Falls
March 17 & 18, 24 & 25

New York State Maple Weekend: An open house of sugar shacks throughout the state

Hudson Valley Locations:
Niese's Maple Farm, 136 Wiccopee Road Putnam Valley, (845) 526-3748.
Catskill Mountain Sugar House, LLC, Grahamsville. Call ahead to make sure they're open! (845) 985-7815
Hummingbird Ranch, Staatsburg
Kenneth Burger Farm, Margaretville
Hahn Farm (March 24 & 25 only) Salt Point
Frost Valley YMCA

,

1920 Frost Valley Road

,

Claryville
See a statewide map of Maple Weekend here.
Local sugar shacks:
Sugarbrook Maple
351 Samsonville Road, Kerhonkson, (845) 626-3466. Call for tours mid-Feb.through March.
Lyonsville Sugarhouse
591 Cty Rte 2, Accord, (845) 687-2518. Sap house open daily during season, call first
High Point Mountain Maple Syrup
75 Whispell Rd, West Shoka, 845-657-7252, Maple products can be purchased year round.
Oliverea School House Maple Syrup
609 Oliverea Rd, Oliverea, 845-254-5296. State-of-the-art maple farm with 3,000 taps in the Catskill Mountains. Tours available year round.
For more maple weekend events throughout the state, visit the NY Maple Growers site.